A Fugitive in Walden Woods:
the fourth book of The American Novels series
Big Other "Most Anticipated Small Press Book" selection
Booklist "Best New Book" selection
Publishers Weekly "Pick of the Week" selection
Foreword Reviews "Book of the Day" selection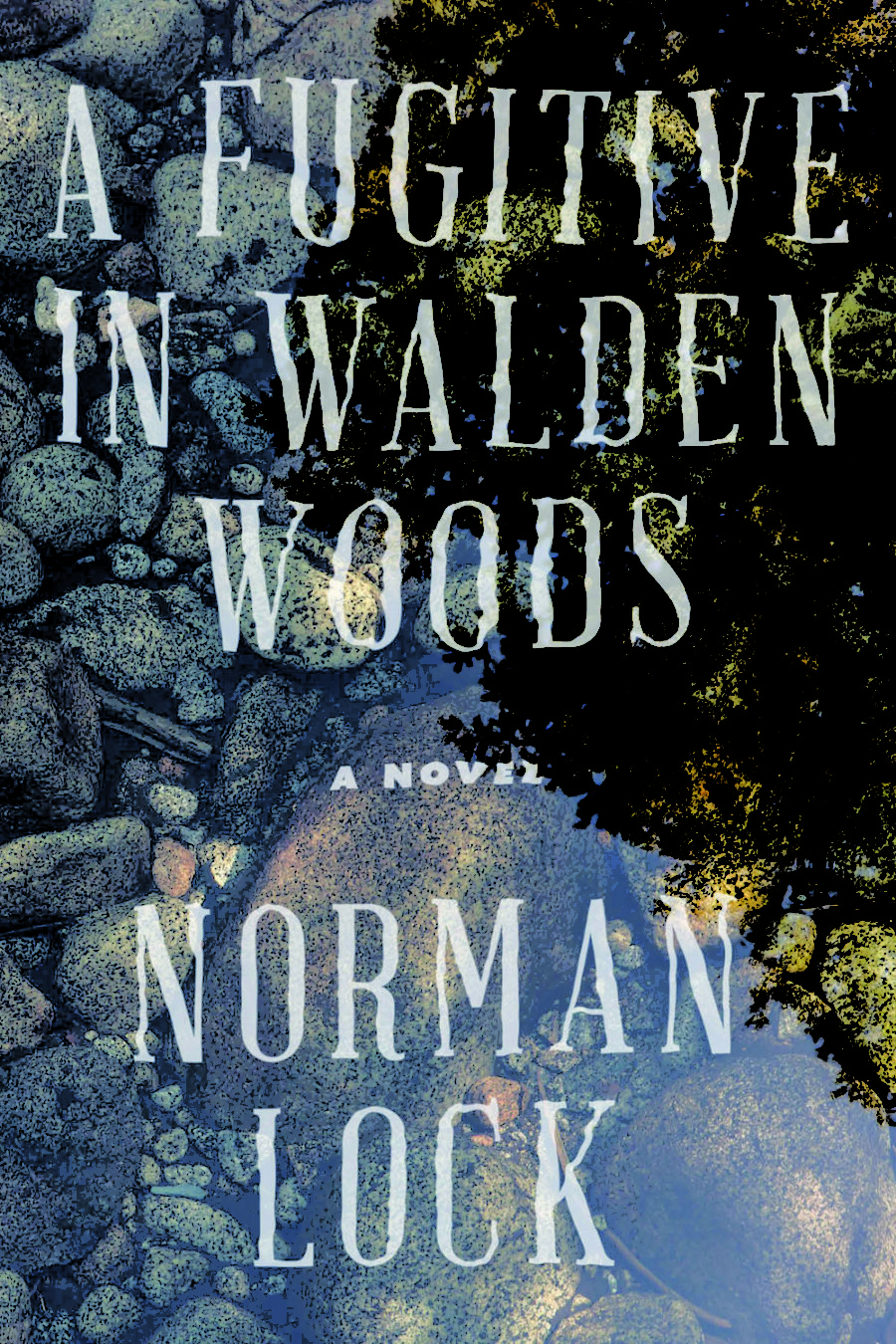 ISBN 978-1942658221 | Bellevue Literary Press | June 6, 2017
In Norman Lock's fourth book of The American Novels series, Samuel Long escapes slavery in Virginia, traveling the Underground Railroad to Walden Woods where he encounters Henry David Thoreau, Ralph Waldo Emerson, Nathaniel Hawthorne, William Lloyd Garrison, and other transcendentalists and abolitionists. While Long will experience his coming-of-age at Walden Pond, his hosts will receive a lesson in human dignity, culminating in a climactic act of civil disobedience.
Against this historical backdrop, Lock's powerful narrative examines issues that continue to divide the United States: racism, privilege, and what it means to be free in America.
PRAISE FOR 

A Fugitive in Walden Woods
"A Fugitive in Walden Woods manages that special magic of making Thoreau's time in Walden Woods seem fresh and surprising and necessary right now. Norman Lock tells the story of Samuel Long, an escaped slave who encounters Thoreau, with insight and some welcome humor. This is a patient and perceptive novel, a pleasure to read even as it grapples with issues that affect the United States to this day."
— Victor LaValle, author of The Ballad of Black Tom and The Changeling 
"Portraying the traumatic psychological aftershock not of war but of slavery provides a convincing and complex narrative of new hardships faced by escaped slave Samuel Long in Norman Lock's bold and enlightening novel A Fugitive in Walden Woods. It's an important novel that creates a vivid social context for the masterpieces of such writers as Thoreau, Emerson, and Hawthorne and also offers valuable insights about our current conscious and unconscious racism."
— Sena Jeter Naslund, author of Ahab's Wife and The Fountain of St. James Court; or, Portrait of the Artist as an Old Woman
"Unflinching, penetrative, and bravely earnest. . . . With melodic prose that marvelously captures [the narrator's] searing insights and rich observations, Lock's imaginative novel is a stunning meditation on idealism and the cost of humanity."
— Publishers Weekly (starred and boxed review)
"Lock's writing is smooth and precise, braiding the worldly and the spiritual together in a lucid, elegant balance. . . . The principal characters are brimming with desires, doubts, and hypocrisies, and are capable of generosity, small-mindedness, genius, and naïveté. They feel at once sharply captured and mysterious—like ordinary mortals who were capable of changing the world."
— Colorado Review
"Powerful . . . both in keeping with the work of some of the literary figures invoked in its pages and in terms of larger questions of race and privilege in America. Precisely structured and abounding with memorable characters, this novel invokes the past while feeling decidedly relevant to contemporary issues and debates."
— Kirkus Reviews 
"Demonstrates Lock's uncanny ability to inhabit historical figures and meticulously capture the vernacular of the time like a transcendentalist ventriloquist. . . . The text interweaves dialogue known to be spoken or written by Thoreau, Emerson, and Hawthorne with that made up by Lock and attributed to these giants of American literature. Lock's remarkable achievement is that the reader cannot tell the difference. The real power of the story, however, comes from Samuel, who more than holds his own among these geniuses. His experiences of brutality offer profound insights that sharpen our understanding of American history."
— Booklist (starred review)
"Norman Lock's American Novels series engages creatively with nineteenth-century literary classics. In the fourth novel in the series, A Fugitive in Walden Woods, a runaway slave encounters Henry David Thoreau and his transcendentalist circle and ponders the meaning of physical and ideological freedom. . . . Having an ex-slave as narrator opens an unusual window into what seems like familiar history. At the same time, Lock's is a fitting homage to Thoreau."
— Foreword Reviews
"Lock has embarked on a fascinating intellectual and artistic endeavor: engaging key American writers from the 19th century through a series of speculative historical novels. . . . In his latest installment, the author examines the life and work of Henry David Thoreau. . . . There is no sermonizing here, just thought-provoking juxtapositions and conversations. Ultimately, what emerges is a unique and affectionate homage."
— Library Journal
"A deeply insightful book that will force the reader to question race, social standing, and what it means to be truly free."
— Historical Novels Review 
"Beautifully written, with heartbreaking tenderness and brutal savagery. . . . This period in history is given a new perspective that speaks as clearly to that time as it does to ours."
— Books for Years
"Thoreau's time in Walden Woods comes to life. . . . The real beauty of books like A Fugitive in Walden Woods can be best expressed in a quote Samuel Long recalls . . . : 'Reading is our recompense for having only one life to live.' Norman Lock has given his readers the chance to live a different life than the one they know best."
— Book Chase
"Bursts with intellectual energy, with moral urgency, and with human feeling. . . . [A Fugitive in Walden Woods] achieves the alchemy of good fiction through which philosophy takes on all the flaws and ennoblements of real, embodied life."
— The Millions
"Lock's novels all use a classic work of American literature as a leaping-off point. . . . His newest leverages Henry David Thoreau's Walden in the story of Sam Long, an escaped slave who makes his way to New England in the 1840s, where he falls in with a group of abolitionist intellectuals, Thoreau among them. Long captures the distinct personalities of these famous thinkers with uncanny ease, and never loses sight of the gulf that yawns between Long and the people who supposedly regard him as an equal."
— B&N Reads
"Norman Lock has done his homework about Henry David Thoreau and slavery, capturing the essence of both in his sublime novel.
— Counterpunch
"So thoroughly does Lock set the mood that it is impossible to tell which words of Thoreau, Emerson, and Hawthorne are ones actually spoken or ones created by Lock. Though these men pondered the great questions of their age (and our own), the insertion of Samuel into the story, forces a more practical rendering of their great ideals. . . . A Fugitive in Walden Woods does not shrink from the difficult questions of our time, including racism. It succeeds in its goal of nudging us to become deeper thinkers."
— Shelf-employed
_____________________________

ISBN 978-1942658061 | Bellevue Literary Press | Available June 14, 2016
Library Journal "Top Indie Spring Fiction" selection
Big Other "Most Anticipated Small Press Book" selection
In his third book of The American Novels series, Norman Lock recounts the story of a young Philadelphian, Edward Fenzil, who, in the winter of 1844, falls under the sway of two luminaries of the nineteenth-century grotesque imagination: Thomas Dent Mütter, a surgeon and collector of medical "curiosities," and Edgar Allan Poe. As Fenzil struggles against the powerful wills that would usurp his identity, including that of his own malevolent doppelgänger, he loses his mind and his story to another.
The Port-Wine Stain is a gothic psychological thriller whose themes are possession, identity, and storytelling that the master, Edgar Allan Poe, might have been proud to call his own.
PRAISE FOR 
The Port-Wine Stain
"Lock's novel engages not merely with [Edgar Allan Poe and Thomas Dent Mütter] but with decadent fin de siècle art and modernist literature that raised philosophical and moral questions about the metaphysical relations among art, science and human consciousness. The reader is just as spellbound by Lock's story as [his novel's narrator] is by Poe's. . . . Echoes of Wilde's The Picture of Dorian Gray and Freud's theory of the uncanny abound in this mesmerizingly twisted, richly layered homage to a pioneer of American Gothic fiction."
—New York Times Book Review
"An enthralling and believable picture of the descent into madness, told in chillingly beautiful prose that Poe might envy."
—Library Journal (starred review)
"Powerfully complex. . . .The Port-Wine Stain fits perfectly with the previous two [American Novels books]: The Boy in His Winter and American Meteor. By picking a moment in U.S. history and inhabiting it with the real-life characters that defined the age, Lock allows his readers to explore the development of national identity."
—Shelf Awareness for Readers
"As lyrical and alluring as Poe's own original work, The Port-Wine Stain captures the magic, mystery, and madness of the great American author while weaving an eerie and original tale in homage to him."
—Foreword Reviews
"This chilling and layered story of obsession succeeds both as a moody period piece and as an effective and memorable homage to the works of Edgar Allan Poe."
—Kirkus Reviews
"[A] worthy volume in Lock's American Novels series, and readers will find him to be an ideal guide for a trip into the past."
—Publisher's Weekly
"Engrossing."
—Historical Novels Review
"Solid . . . Effective."
—Booklist
"Shivery-good."
—Small Press Book Review
_____________________________

ISBN 978-1934137949 | Bellevue Literary Press | Available June 9, 2015
Available as an audiobook from Blackstone Audio
Publishers Weekly Starred Review and "Pick of the Week"
Library Journal "BookExpo America Book That Buzzed" selection
In American Meteor, an epical novel of America's Manifest Destiny, Stephen Moran recounts his boyhood as a Brooklyn oysterman and a Civil War bugler, elected by Walt Whitman, General Grant, and his own remarkable destiny to ride the Lincoln funeral train, playing taps en route to the dead president's entombment in Springfield. Caught up in the "westering" tide, Moran remains aboard the "parlor" car as a steward, after its purchase by the Union Pacific to carry executives to oversee construction of the transcontinental railroad. Apprenticed to William Henry Jackson, preeminent nineteenth-century photographer of the frontier, Moran documents the seizure of the "empty" territories beyond the Mississippi. As George Armstrong Custer's personal photographer, Moran accompanies him to the Black Hills during the discovery of gold, to the Philadelphia Centennial Exhibition, and, finally, to the Battle of the Little Bighorn. When he comes face-to-face with Crazy Horse, his life is spared by the great Lakota war chief and Moran glimpses, in prophetic dreams, the dark ecology of an inglorious American future: a grievous breach of what was promised us by the apparently boundless West.
By turns elegiac and comic, American Meteor is a novel of adventure, ideas, and mourning: a unique vision of our nation's fabulous and murderous history

PRAISE FOR AMERICAN METEOR
"[American Meteor] feels like a campfire story, an old-fashioned yarn full of rich historical detail about hard-earned lessons and learning to do right." —Publishers Weekly (starred review)
"[Walt Whitman] hovers over [American Meteor], just as Mark Twain's spirit pervaded The Boy in His Winter. . . . Like all Mr. Lock's books, this is an ambitious work, where ideas crowd together on the page like desperate men on a battlefield." —Wall Street Journal
"Memorably encompasses grand themes and notions of transcendence without ever losing sight of the grit and moral horrors present in the period." —Kirkus Reviews
"Rather like Thomas Berger's Little Big Man. . . . [Lock] writes beautifully, with many subtle, complex insights" —Booklist
"Successfully blends beautiful language reminiscent of 19th-century prose with cynicism and bald, ugly truth." —Library Journal
'Meteor' Is A Fiery Ride Through American History… [Norman Lock makes] a fable all his own which sheds brilliant light along the meteoric path of American westward expansion… [a] pithy, compact beautifully conducted version of the American Dream . —NPR
"American Meteor is, at its core, a spiritual treatise that forces its readers to examine their own role in history's unceasing march forward [and] casts new and lyrical light on our nation's violent past." —Shelf Awareness for Readers (starred review)

"Like the western sky, American Meteor stretches to the horizon in all directions. . . . A lovely panorama to behold." —New York Journal of Books
"American Meteor is at its heart a frontier yarn of adventure and discovery, insight and yearning [for] readers who savor the well-turned phrase and those who demand a little swash with their buckle." —Four Corners Free Press
"American Meteor is a fascinating, prophetic contribution to recent historical fiction, and Lock is plainly an author well worth our attention." —Monkeybicycle
"Lock creates a memorable character who sees it all while providing a shimmering eulogy for the loss of one America in order to create another." —Bluegrass, Books, and Brainstorms

_____________________________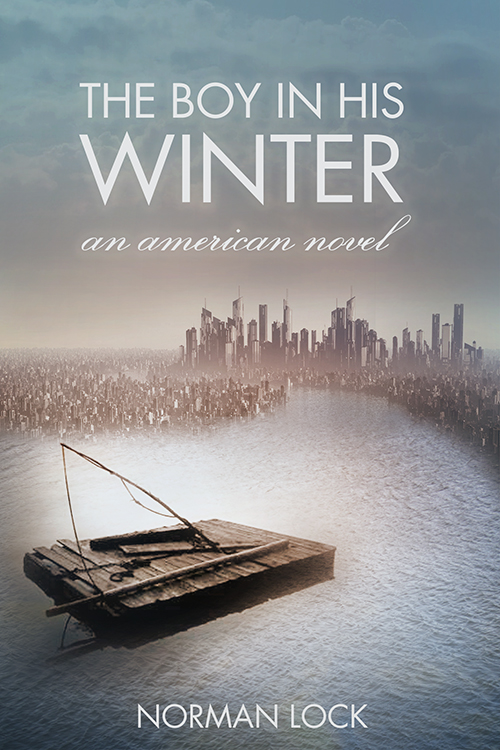 ISBN 978-1934137765 | Bellevue Literary Press | Available May 14, 2014
Reader's Digest: "Great Books from Small Presses

That Are Worth Your Time"
Library Journal: Discoveries Selection
Buzzfeed: "30 Books to Buy in 2014"
Huffington Post "Best New Book"
Publishers Weekly "Pick of the Week"
Spartanburg Herald-Journal Escape "Pick of the Week"
Hear Norman Lock's interview with NPR's Scott Simon 

here

.
Huck Finn and Jim float on their raft across a continuum of shifting seasons, feasting on a limitless supply of fish and stolen provisions, propelled by the currents of the mighty Mississippi from one adventure to the next. Launched into existence by Mark Twain in 1835, they have now been transported by Norman Lock through three vital, violent, and transformative centuries of American history. As time unfurls on the river's banks, they witness decisive battles of the Civil War, the betrayal of Reconstruction's promises to the freed slaves, the crushing of the Native American nations, and the electrification of a continent. While Jim enters real time when he disembarks the raft in the Jim Crow South, Huck finally comes of age when he's washed up on shore during Hurricane Katrina. An old man in 2077, Huck takes stock of his life and narrates his own story, revealing our nation's past, present, and future as Mark Twain could never have dreamed it.
The Boy in His Winter is a tour-de-force work of imagination, beauty, and courage that re-envisions a great American literary classic for our time.
"Make[s] Huck and Jim so real you expect to get messages from them on your iPhone."
—SCOTT SIMON, NPR Weekend Edition
"In this surreal and otherworldly river journey through time, Norman Lock transports Huck Finn down the Mississippi and deep into America's history—and future. Elegant and imaginative, The Boy in His Winter is a tale that's as hypnotic as it is profound."
—GILBERT KING, Pulitzer Prize-winning author of Devil in the Grove: Thurgood Marshall, the Groveland Boys, and the Dawn of a New America
"I read Norman Lock's The Boy in His Winter with delight and amazement. Styled in the vernacular of a rapidly changing America, it stays true to the themes of Mark Twain's original: class relations, race and slavery, childhood innocence, moral hypocrisy—and, of course, the stark beauty and unforgiving nature of America's greatest river. I finished this absolutely elegant narrative feeling that Huck Finn has never been more alive."
—DAVID OSHINSKY, Pulitzer Prize-winning author of Polio: An American Story and Worse Than Slavery: Parchman Farm and the Ordeal of Jim Crow Justice
"Nothing less than the story of America itself . . . The Boy in His Winter is extraordinary. Lock writes some of the most deceptively beautiful sentences in contemporary fiction. Beneath their clarity are layers of cultural and literary references, profound questions about loyalty, race, the possibility of social progress, and the nature of truth and story. They merge with an iconic American character, tall tales intact, to create something entirely new—an American fable of ideas."
—Shelf Awareness  
"[Lock] is one of the most interesting writers out there. This time, he re-imagines Huck Finn's journeys, transporting the iconic character deep into America's past—and future."
—Reader's Digest
"Brilliant . . . this novel shimmers with glorious language, fluid rhythms, and complex insights. . . . The Boy in His Winter is a glorious meditation on justice, truth, loyalty, story, and the alchemical effects of love, a reminder of our capacity to be changed by the continuously evolving world 'when it strikes fire against the mind's flint,' and by profoundly moving novels like this."
—NPR Books
"Lock plays profound tricks, with language—his is crystalline and underline-worthy—and with time, the perfect metaphor for which is the mighty Mississippi itself."
—Publishers Weekly (starred and boxed review)
"The latest from distinguished elder statesman Lock . . . is an eclectic hybrid of literary appropriation, Zelig-like historical narrative, time-travel tale and old-style picaresque."
—Kirkus Reviews
"A sobering read and a wake-up call . . . which firmly places Lock as one of the most talented authors working today."
—Upcoming4Me 
"The voice of Huck Finn is so vivid and felt in this novel one loses the sense there's an author behind it. . . . [The Boy in His Winter] is a testament to friendship, sharing, a slow life derailed and a look at America from a truly unique perspective. Huck is unforgettable and this book then even more so."
—Sheryl Cotleur, Copperfield's Books (Northern California's Sonoma County)
"To call [The Boy in His Winter] a work of fiction is to tell only part of the story. This book is as much a treatise on memory and time and the nature of storytelling and our collective national conscience . . . much of it wildly funny and extremely intelligent."
—Minneapolis Star Tribune
"Lock's work mines the stuff of dreams . .  . [In The Boy in His Winter] Huck Finn and Jim set forth down the Mississippi River and journey through a century and a half of American history, to alternatingly thrilling and horrific effect."
—Rumpus
"A true American novel—in many ways as moving as Mark Twain's original."
—CounterPunch
"Boldly reimagines Huck Finn. . . . Striking and original. . . . The premise may be an outlandish brain-twister that takes risks with a sacred American myth, but the vessel stays afloat by virtue of [Lock's] wily ingenuity."
—Atlanta Journal-Constitution
"A wonderful meditation on the struggle to dovetail one's present self with the one's past."
—Friends of Atticus
Read "The Drowning of Huckleberry Finn," an excerpt from the novel at Construction magazine.
Hear an interview with Norman Lock with NPR's Scott Simon.
Purchase through the publisher or through Amazon.
_____________________________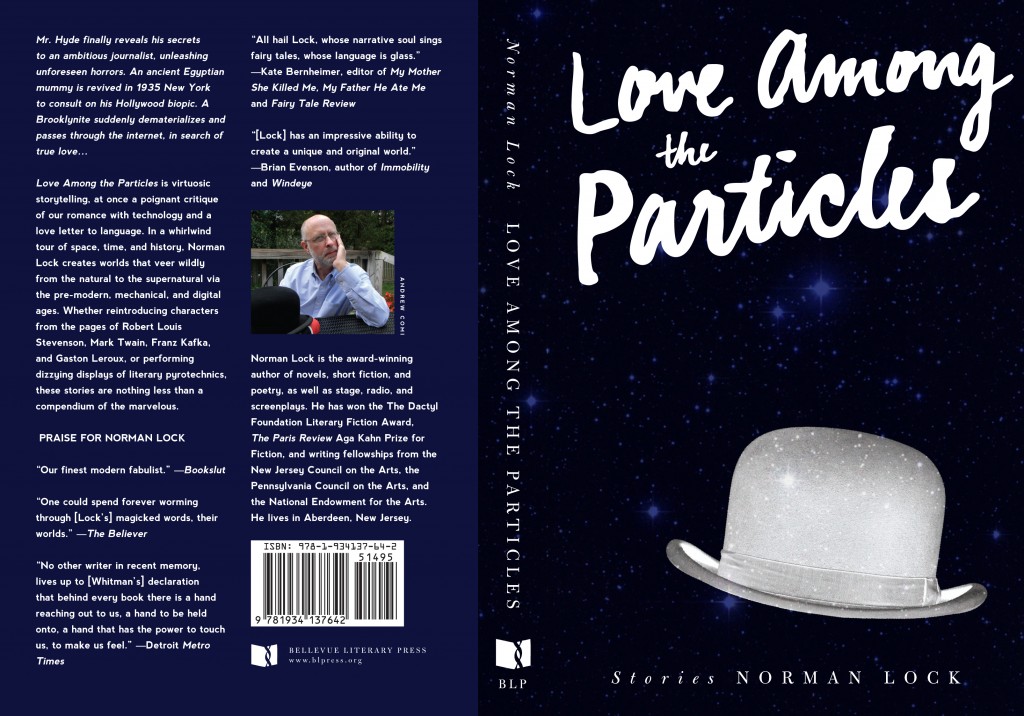 ISBN 9781934137642 | Bellevue Literary Press | Available May 14, 2013
Love Among the Particles is virtuosic story telling, at once a poignant critique of our romance with technology and a love letter to language. In a whirlwind tour of space, time, and literary history, Lock creates worlds that veer wildly from the natural to the supernatural via the pre-modern, mechanical and digital ages. His characters may walk out of the pages of Robert Louis Stevenson, Mark Twain, Franz Kafka, or Gaston Leroux, but they are distinctly his own. Mr. Hyde finally reveals his secrets to an ambitious journalist, unleashing unforeseen horrors. An ancient Egyptian mummy is revived in 1935 New York to consult on his Hollywood biopic. A Brooklynite suddenly dematerializes and passes through the internet, in search of true love….
"Through the years, I've found entertainment and intellectual engagement within books' pages, but once in a harvest moon I find in them what I have been looking for all along: a story that reminds me of truths I did not realize I have forgotten. When I picked up Norman Lock's collection of stories, Love Among the Particles, I knew I was about to step once more onto a street paved by the deep longings of the soul…Lock effortlessly blurs the edges of where fiction ends and reality begins…Norman Lock has created a masterpiece containing everything I could want from a great read."
       Deanna Hoffmann
"They are gems, rich in imagination and language. Readers will happily suspend disbelief, perhaps even finding particles of humor with the Museum of Steam's bottled steam that "rose, unbidden…with indecent intent with regard to a woman's knickers." And beyond the entertainment lie 21st-century conundrums: What really exists? Are we each, ultimately, alone and lonely? Where is technology taking humankind?… For all their convolutions of space and time, these stories are remarkably easy to follow and savor."
       A *starred* Kirkus Review and a "Best Books Out This Week" 
"[T]hese humorous, imaginative meditations on the nature of dreams, time, and space shimmer in their own darkness… reminiscent of the plays of Samuel Beckett, there is a wealth of insight here."
       Publisher's Weekly
"Norman Lock once again proves himself a master storyteller in his new collection, Love Among the Particles. These stories are brilliantly imaginative and wonderfully unsettling."
       Largehearted Boy, May 15, 2013 | Review by David Gutowski & "Book Notes" playlist by author Norman Lock
"Norman Lock is one of the best writers you've never heard of, but that could change with Love Among the Particles, a collection of stories that combines absurdist elements and avant-garde fiction with conventional storytelling to satirize our romance with devices and our penchant for confusing technology with living…Philip Roth invited a young Lock to his writing seminar and helped launch a career that has included recognition from George Plimpton at the Paris Review and the publication of four novels and hundreds of short stories and plays. Love Among the Particles is topical, astonishing and provocative–and should help Lock reach his widest audience yet."
       http://www.shelf-awareness.com
"These stories, many inspired by literary classics, are so thoroughly imagined they are less homages than reinventions. Watching Lock effortlessly leap between genres and styles, a reader can only shake her head. There is nothing this author can't do on the page."
       Necessary Fiction
"Lock is not engaged in either homage or pastiche but in an intense dialogue with a number of past writers about the process of writing, and the nature of fiction itself …. Lock constantly interrogates the business of writing fiction, confusing the role of writer and participant. When Roland Barthes spoke of the death of the author it was only to propose that everyone was in part author of the story she was reading, endlessly reformulating it, and this is something that Lock almost insists on, so open is he about pointing out the fictionality of everything we look at."
       Weird Fiction Review (UK)
"The stories in this collection feel quite deliberately selected to provoke the reader into an acknowledgement — and hopefully, a studied consideration — of the ineluctable strangeness of existence, in all its historical and fictional glory. I can't think of another author who takes such evident, vocal delight in bending the laws of physics and geography (to say nothing of his flouting of various narratological and fictional norms)…. Stories make their own realities, just as histories do, and Lock's uniquely intricate understanding of this dynamic is what makes these tales so inimitable.
       Nathan Weatherford (Full Stop)
"Lock is a rapturous storyteller, and his tales are never less than engrossing. Indeed, they are so engrossing that Lock's presence as a character sometimes seems an accident, as though he has been drawn into his own stories by some sort of irresistible narrative attraction."
     Gabriel Blackwell in The Kenyon Review
____________________
Read An Interview with Norman Lock, by Celia Johnson: "Lock creates stories that, at first glance, seem impossible, and yet by the end of each one, feel utterly familiar… 'Try as I have, I cannot seem to write other than I do: fables of identity, parables of self-consciousness, and tales of the marvelous.' That magnetic pull transcends the pages of his book, making for a fully addictive collection." READ THE FULL INTERVIEW at Slice Magazine
The Story Behind Love Among the Paricles: "[L]et's say (acknowledging that my response may be correct only insofar as I believe it to be) that I wanted to write at length, in reaction to the brief texts of Grim Tales and Pieces for Small Orchestra & Other Fictions, which I was writing at the same time as the new book of stories – together with the novel Shadowplay, the stage play The Book of Stains, and a number of radio dramas. (A ten-year period of uncertainty and growing anxiety.) I am often a self-referential writer, whose work not only regards my present state of awareness and literary practice (as well as those of my exemplars), but questions my motives for writing." READ the full story here.
A Brief (and Incomplete) Guide to Norman Lock's Fiction at by Tobias Carroll at vol.1 Brooklyn.
READ AN EXCERPT at The Collagist
Purchase through the publisher or through Amazon.
_____________________________
In a "narrow measure" muscular as Skelton's but with the wit, precision, and grace of bonsai, Norman Lock delivers the story of Nicolaas Jansen, "soldier/deserter, poet," insurgent subject and celebrant of Rat. Not since Ted Hughes' Crow have we encountered a figure with this much disturbing gravity and charisma; of the two, Rat is the more versatile and cunning: by turns our confessor, brother, source and devourer, God's mimic and shadow, double to soldier and state, patron and incarnation of the impulse to war, that force relentlessly "turning/ what is human into/ meat." In the Time of Rat is an engrossing, darkly compulsive read, and once finished we wonder, as Jansen does, "Was it/ ecstasy or terror?/ Rat only knows." –– John Hennessy, author of Bridge and Tunnel
_____________________________
Escher's Journal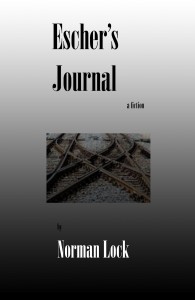 ISBN 978-0985152024
$11.95 US | 96 pages | Ravenna Press 2012
I wrote this imaginary journal to explain a genuine interest in Escher's work and to think as profoundly as I am able about the grand metaphysical notions that spellbind even the most cynical practitioner of the arts in our time: truth and semblance, the finite and the infinite, the temporal and the timeless, natural law and the dictates of unconscious life, dreaming and the creative imagination. (Those of us for whom to write is to consider ideas, playfully more often than not, seem never to tire of these oppositions.) And so Escher's journal is also mine.
Norman Lock, from the Afterword
Order directly from Ravenna Press or from Amazon.
____________________
Three Plays
ISBN-13 978-1-934-819-14-2
$18 | Drama | Noemi Press 2011
"If Ionesco had written an American suspense thriller, it might be something like this."
—Los Angeles Times
"We are kept on the edge of our seats as events move toward a climax beyond expectation … Makes us laugh our way up a mountain of success."
—The Scotsman
"Lock's weapon is words and he uses them well. … like a nightmare that wakes you up shaking, forcing you to reassess your life."
—LA Life
Order directly from Noemi Press.
Read an excerpt
Review on Goodreads.com
____________________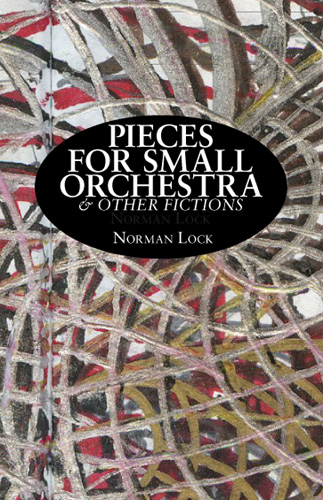 Pieces for Small Orchestra

& Other Fictions



Cover art by Sasha Meret
ISBN 978-1-933132-85-3
$16.00 US | 158 pages | Spuyten Duyvil 2011
[A] book of many books, all doling out the life (and dream-life) of Alessandro Comi, and showcasing everything that makes Lock's work great: the vocabulary is demanding, the pages filled with meta-fiction, and the text ripe with ambiguous meaning.
-J.A. Taylor in Ploughshares 
A suite of four interacting works that do meta-fictionality without that embarrassing pedantic odor. And in the title work lock so refines a style that his figurines gesture on an exquisite stage with a perfect modulation of wit and heartbreak. These miniatures gradually develop their emotional and formal ambitions so, as with the funambulist named within, we hold our breath — unbelieving the instant-by-instant and sentence-by-sentence marvels of Lock's high-wire act.
-Eugene Lim
There are moments that remind me of Sax Rohmer or early 20th century science fiction, bits and pieces of language that seem to come out of Jules Verne or Gaston LeRoux. The language itself is quite stylized, replete with a carefully eccentric vocabulary that Lock does very well. He has an impressive ability to create a unique and original world.
-Brian Evenson
Order directly from Spuyten Duyvil Press.
Review on Goodreads.com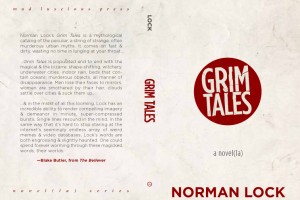 New edition of Grim Tales from Mud Luscious Press
"This is book as turbulence disrupting the smooth sea, as anti-matter breaking bonds that had never before been broken. Throughout, the book defies the physics and metaphysics of our known world even as it pretends to a reaching backward, to drawing forth these tales from some shared past, dissembling not to deceive but to aggress us anew. See the quotation marks which suggest some unavailable subtext but which quote nothing but Lock's own imagination, or else that of his arranging characters, his possible narrator, and you see the layers of interpretation he is willing to risk so as to prevent any easy explanation, any trite truth too cleverly left unconcealed. Better always that the work be mysterious, that the mystery be allowed to work upon us."
—Matt Bell, from the introduction
"Norman Lock's GRIM TALES is a mythological catalog of the peculiar, a string of strange, often murderous urban myths. It comes on fast & dirty, wasting no time in lunging at your throat…GRIM TALES is populated end to end with the magical & the bizarre: shape-shifting, witchery, underwater cities, indoor rain, beds that contain oceans, murderous objects, all manner of disappearance. Men lose their faces to mirrors, women are smothered by their hair, clouds settle over cities & suck them up…& in the midst of all this looming, Lock has an incredible ability to render compelling imagery & demeanor in minute, super-compressed bursts. Single lines resound in the mind. In the same way that it's hard to stop staring at the internet's seemingly endless array of weird memes & video databases, Lock's words are both engrossing & slightly haunted. One could spend forever worming through these magicked words, their worlds."
–Blake Butler in The Believer
[A] quick read yet for days afterward I couldn't stop shivering, and also marveling at the craft, the tight structure, the perfect sentences, and most of all the small moments of grace, of quiet beauty that Lock allows us amidst the carnage and the wreckage.
–from Vouched.
There is a whiff of Kafka, also, maybe even a taste of that unparalleled reader of Kafka, Maurice Blanchot. Most centrally there is an attempt to reenter and reinvent the work of the Grimm brothers, to show us something about the logic of fairy tales and why they haunt us so. Here is a mirror that steals a man's reflection. Here is a field of knives, a thick fog full of ladders. Here is a "hedgehog, dead by the side of the road, [that] was once a man who refused to believe in fairy tales." And here, too, are pieces of writing that predict death, that stand as literal sentences of death; pieces of writing into which the writers and/or readers literally disappear.

—Spencer Dew at decomP Magaine
Norman Lock is a writer of terrifying ambition. In Grim Tales, his slim collection of fairy tales, he tells what appear to be campfire stories of mysterious disappearances, haunted mirrors, and grotesque transformations — stories that will make you shiver in the night or check your back in a dark woods. Yet, along the way, Lock's apparent aim is to remind his readers of the most thorny of metaphysical truths such as the fact of karma, or the pathetic limits of the human perspective, or, most grimly, the inexorably cruel irony that pervades our lives. To achieve these lofty illuminations, Lock allows himself, on average, about a hundred words per story. Miraculously, he and his cryptic miniatures get the job done.
–Paul Charles Griffin in Bookslut
Norman Lock may be the best kept secret in indie-lit… What makes Lock so interesting is his inventiveness, his fearlessness, his originality.
—CL Bledsoe in The Ampersand Review
Order directly from Mud Luscious Press here.
Review on Goodreads here.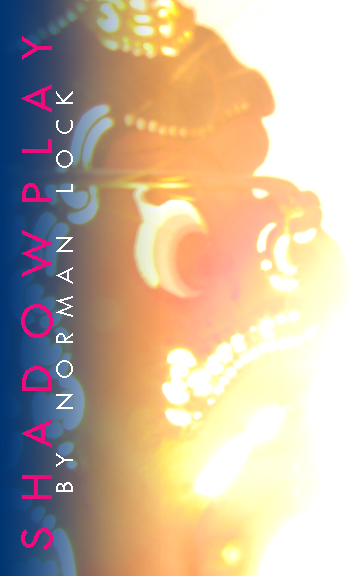 Shadowplay
In Java, a master of the shadow-puppet theater seeks to possess—by his art—a woman, who perishes as though by the contagion of his unnatural desire. Renouncing public performance to live among shadows cast from the mythic world of ancient Hindu stories, the puppet-master profanes his art to serve a transgressive love. By force of utterance and invention, he will bring back the woman from the dead.
Shadowplay is a meditation on story-telling as an act of seizure, a parable of obsession and of the danger of confounding the real with its representations. Exotic and occult, Shadowplay is nonetheless contemporary in its enactment of conflicts: of form and iconoclasm, ambition and estrangement, the will to make of another an object of desire and the refusal of that annexation.
Winner of the 2010 Dactyl Foundation Literary Fiction Award!
"[A] dense fable, mixing magic realism with self-reflexivity. The entire story is given to us in miniature at the beginning, such that the novella itself is really a constant retelling–a folding and refolding–rather than an unfolding… This plot unfurls slowly: it starts, stops, returns and starts again, usually with a new detail, or sometimes less detail, sometimes abstracted, sometimes enlarged. The effect is of narrative feathering, one moment being layered on top of another until the whole body is finally covered… Lock's Shadowplay is a masterful rendering of the life of one story teller, trying desperately to fit within the intricate pattern of tradition, daring to transcend it by embracing it too much, until he is finally becomes a shadow in the story… an enchanting ritual of forms whose beauty will linger in the memory for a very long time."
"Stories compensate for lives unlived. They are what Norman Lock, or his avatar Guntur, calls shadows, negative reflections on a backlit screen, comprising, through artistry and brief illumination, ghosts. Lock's teller is imprisoned by darkness, captivated by warriors and princesses no longer, if ever, living. Death becomes a distance from which the voices of these unliving return. It is a journey as delicious as it is threatening."
–R.M. Berry, author of Frank and Leonardo's Horse
"In the Dickinsonian tradition, Lock is adept at writing about places he has never been. He develops exotic lexicons of objects to stage his dramas. Pure objects, the words for them as portrayed in other books & art, unencumbered by the reality of the objects themselves…. this is the brilliance of Lock—he mines the unknown or underknown for gems whose value is not relevant to the soil they were dug up from, for no other reason other than in the name of art."
–Derek White, Publisher of Calamari Press and author of Marsupial and Poste Restante
"Lock's language reflects the fabulous nature of the myth, intricate in description but never hard to understand, full of repeated images that, however simple, resonate deeply within the story."
"Just as a dalang retells ancient and iconic stories in his puppet-theatre, Shadowplay is itself a fable that stages the storyteller's struggle between imagination and reality, experience and its record… Mistaking the shadow for the object from which it is cast, [Lock] illustrates the fact that the narratives we use to make sense of the world sometimes do so at the expense of our experience of it."
–Monica McFawn in Rain Taxi Review of Books
"Storytellers remind us that data retrieval is really a kind of betrayal, that truth and meaning are elusive, and that we see our selves, our relationships, our surroundings, as if through curtains. Norman Lock's Shadowplay penetrates these diaphanous folds by casting light on the folly of irreconcilable love, the melancholic ache of nostalgia, and the burning yearning of art, of making something out of nothing… Swathed in darkness, Lock traverses liminal realms with glassine sentences reminiscent in form and substance of the like found in Gene Wolfe's and Ursula K. Le Guin's fiction, sentences you may be tempted to set off into line-broken verse. Shadowplay is another of the master locksmith's nested boxes whose evocative, ensorcelling prose will withstand multiple readings, especially if read aloud."
–John Madera in Review of Contemporary Fiction
"This is a cerebral work, and Lock is a heady writer, yet he evokes a deeply sensual world in which the smell of cinnamon all but sings in the breeze and the sea beckons like a lover… The novel stands on its own and does its tricky work unaided, like the afterlife of a dream."
–Dawn Raffel in The Brooklyn Rail
Order from the publisher, from Small Press Distribution,  Amazon.com, Barnes & Noble, or your local independent bookstore.
Read an excerpt in The Collagist.
Read an interview with Lock by Matt Bell on the writing of Shadowplay.
The King of Sweden
A new novel about a shimmering Walker Evans woman lost inside herself. Lock's language is like "pepper shook out" – pungent and minutely particular.
––TERESE SVOBODA, Tin God and Trailer Girl and Other Stories
Like his gorgeous Long Rowing Unto Morning, The King of Sweden centers on a woman who is simply misunderstood by a world where innocents are fooled into a myriad of seductions that lead to the unraveling of the most human of human hearts. It is Lock's great artistry to make such suffering beautiful and necessary and to make out of this language an artifact that forces us to feel the inner turbulence of the characters who inhabit this masterful book.
––PETER MARKUS, The Singing Fish, Good Brother, and Bob, or Man on Boat
This novel's a metaphor and a charm. Its story has the greyest, most lovely precision. All hail Lock, whose narrative soul sings fairy tales, whose language is glass.
––KATE BERNHEIMER, The Complete Tales of Ketzia Gold and The Complete Tales of Merry Gold
Lock demonstrates a keenness for bringing the inanimate to life… The fresh language that Lock employs makes reading it more akin to lyric poetry than novel. … [A] brilliant miniaturist…
–JESSE TANGEN-MILLS at Bookslut.com
Order from the publisher or order from Amazon.com
The Long Rowing Unto Morning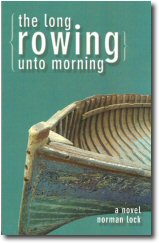 Quietly, simply, elegantly, Norman Lock channels, through his "Plain Jane" narrator, our gorgeous desolation, our longing for connection, both earthly and divine. The Long Rowing Unto Morning spirits the reader into richly emotional and primal realms; it's a book to return to again and again.
–– Dawn Raffel, Author of Carrying the Body
Norman Lock's The Long Rowing Unto Morning captures the life of a wounded and hampered individual whom we normally wouldn't glance at twice, but does so so deftly and so masterfully that by the end we feel that she's someone we've always been close to. Like Eva Figes, Lock is interested in exploring the complexities of memory and perception, in how age and an uncertain arrangement of the mind changes the world. Lock allows us to see the world through an Other's eyes in such a way that by the end the difference between us and her seems little more than a thin sheet of paper, if even that.
–– Brian Evenson, Author of Altmann's Tongue and The Wavering Knife
The narrator of The Long Rowing Unto Morning is unforgettable. This is Norman Lock's best fiction yet.
–– Michael Kimball, Author of The Way the Family Got Away

Suffice it to say that while Lock and [Noy] Holland share the same deliberately slow (but by no means methodical) rhythm … the restless gestures towards a point outside the frame of the picture have, in Lock, been collapsed until they occupy not gestures, but pulses rippling through the protagonist's mind like rain.
–– Miles Clark, NewPages Book Reviews
Lock is interested in one of the most important questions we can encounter: what it means to be in the world. His metaphors of inaccessibility and containment are powerful and often devastating forces throughout the novel. … It is a voice unlike any other.
–– Catherine Spangler, Raven Chronicles
This is a portrait of a woman who is fully in touch with her own sense of loneliness and solitude and the slowness of time's passing….No other book, no other writer in recent memory, lives up to [Whitman's] declaration that behind every book there is a hand reaching out to us, a hand to be held onto, a hand that has the power to touch us, to make us feel.
–– Peter Markus, Detroit Metro Times
Order from the publisher or from Amazon.com or from Powells.com.

A History of the Imagination
This book may be called a novel, but a more correct designation might be narrative-as-heaped-mirror-shards…Everywhere lurk stiletto asides, snappy puns, buried quotations … the fickle dalliances of this History make for a skillful and distinctly unnerving funhouse reflection of our own 'present action.'
— American Book Review
Lock has quite successfully woven together the two contradictory impulses of human biology and psychology – the impulse into the future and the yearning to be done with it – in a most remarkable way…. the richness of Lock's language and tonal control, creating a voice that pulls the reader forward both because what he says is so intriguing and even oddball and because he says it so vividly. When these strengths are intertwined with the profound emotion undergirding the story – N's deep sadness at man's inhumanity to man – the work which emerges is not simply engaging but also satisfying: a patent fiction which feels true. It is possible that Norman Lock in A History of the Imagination has created the first important English language debut of the twenty-first century, a book that may in decades to come resonate of our time as The Waste Land embodies its own.
— Cooper Renner, In Dissent
The writing is engaging, sly and frequently hilarious, and Lock provides passages of genuine beauty all the more enjoyable for having emerged from farce. Too many writers have lately attempted fiction in a similar vein; call it magical unrealism. Lock is distinguished by success, having written an elaborate whimsy grounded in human emotion and worth sitting still for.
A strange, unforgettable book.
–Stephen Schenkenberg, Playback. (The novel was named among the best books of the year by this national arts paper)
Lock's language, though basically sleek and minimal, combines the high gloss and perspicuity of the Edwardian age with the robustness and vigor of American inventiveness, leavened by a facility for maximizing – to marvelous effect – the dichotomy between the sign and its object.
— John Olson, First Intensity
Order from the publisher or from Amazon.com or from Powells.com.

'Notes to the Book of Supplemental Diagrams' for Marco Knauff's Universe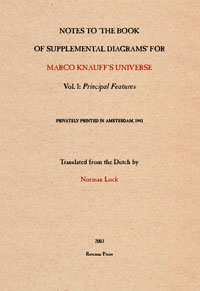 The slender volume is a compact set of lyrical declarations, metaphysical in ambition and sublime in their effects, about the interpenetrations of the seeable and the unseeable, the mechanical and the unearthly, in a universe graced by randomness and the "slippage and instability of essences." …There is a musical design to these meditations – they proceed in gladdening runs of image and aphorism.The prose is melodial, and alert to every signal from the unseen….Lock's "Notes" is a book of gnomic and exquisite sentencecraft, and sly wit that never descends into whimsy.It's a wonderwork in miniature, reperplexing infinitude.
–– Gary Lutz, author of Stories in the Worst Way
In truth, alack, I, Gordon, am positively nuts for Knauff and nuts for Lock, in whatever guise the waggish Lock (not to mention, Knauff) decides to produce himself.In truth?In truth, Lock writes it, Lish reads it! – which is a damn sight more than Lish will say for Proust.
–– Gordon Lish
After so many years of hearing about the great Machinery of Marco Knauff (and having long since come to suspect one labored within it), it is a great satisfaction to read Knauff's own writings at last.One can only stand in awed astonishment that these Notes, which in truth cannot be said to exist at all, are there in one's left hand.
–– R. M. Berry, author of Leonardo's Horse and Frank
Like Wittgentstein's Tractatus, these Notes are a logical treatise.A treatise on Logos.Thus, also in part a treatise on what must be left out of speaking, even as it strains words.… But this little book is also, and primarily, literary….Like the conclusion of a successful psychoanalysis, the closing pages of Knauff's Notes offer the reader purgation in the form of a sad yet hopeful acceptance of the necessary sketchiness of human life: "Suffer dreams to come," Knauff says.Also: "Wait for the end. Banish fear. Love where I may."
–– Andrew Wilson, publisher of Linnaean Street
Order from the publisher.

Land of the Snow Men (writing as George Belden)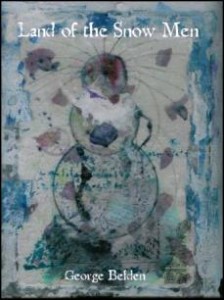 Belden's [Lock's] sentences combine the erudition and confidence of the educated man with the emphatic vulnerable tone of a personal diary….Belden consistently refers to his surroundings as an illusion; the landscape and his perceptions are one and the same, slippery and infinitely variable atmospheres, refusing dominance, univocal interpretation or mediation by reason.He perceives and writes the Antarctic as though an afterworld.
––Miranda Mellis, American Book Review
The journal is a record of the impossibility of removing all ambiguity, all simile and metaphor, from the world.In fact, [Captain] Scott's failure foreshadows the failure of Russell's and Wittgenstein's attempts to develop a purely logical, and simply true, language, which only became apparent some two decades after Scott's expedition.In fact, one of the many remarkable aspects of Belden's journal is his chronicle of a valiant but failed attempt to realize a philosophy's precepts so directly in reality….[Lock] is one of the few writers to succeed in establishing himself in the mainstream of the American literary world without falling into … "the black hole of American realism."
–– G. S. Evans, Café Irreal
Norman Lock shows undeniable talent at recreating a world of ice, light and darkness where impossible visions are made credible and resist like ice statues till the melting breath of reality dissolves them.
–– Paula Grenside, Avatar Review
Lock's strength is to draw the reader in with his verbal ability, no matter what his content may be.His readers don't turn to his books and stories because of content, but rather because they know that works will always be written with a linguistic power out of reach of all but a few writers.
–– Cooper Renner, Five Star Literary Stories
Order from the publisher or from Amazon.com or from Powells.com.

Grim Tales
(published in
Trio
)
A wicked little beast, delivered in fine-tuned bursts … Grim Tales [published in Trio] is a mythological catalogue of the peculiar, a string of murderous urban myths. … With a tip of the hat to Russell Edson and the "miniature gothics" of Enrique Anderson Imbert, Grim Tales is populated end to end with the magical and the bizarre: shape-shifting, witchery, underwater cities, indoor rain, beds that contain oceans, murderous objects, all manner of disappearances.
Order from the publisher or from Amazon.com or from Powells.com.
Two Plays for Radio
Based on an actual event, The Shining Man recounts (using Expressionistic dramatic techniques) the salvaging of a deadly isotope from an abandoned irradiation machine by two junk men. They unknowingly unleash a modern plague on Goiania with fantastic and tragic consequences.
In Beyond Recognition, a chilling fable of ultimate identity theft, the alienated narrator relates his gradual dispossession, internment, death, and dissolution.
Order from the publisher.
Cirque du Calder
Cirque du Calder is a hand-made, limited-edition. The book was produced using Asian techniques in the shaping of a hand-sewn artifact. The cover is rendered of artisan Canal Paper. The text is laser-printed on twenty-four-pound linen paper constituted of twenty-five percent cotton. Each copy is signed by the author and is numbered in the order in which the volume was produced. Produced and designed by Faruk Ulay. Afterword by Gordon Lish.
The House of Correction
(stage productions)
Order from the publisher or from Amazon.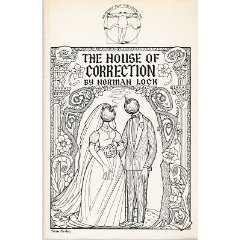 House of Correction keeps a tight lock on the audience's attention … gradually the shimmer of the words deepens into a more visceral sense of menace.If Ionesco had written an American suspense thriller, it might be something like this.
–– Los Angeles Times, June 14, 1994
Lock's ideas lend tangy new flavor to an old form…. House of Correction is first, last and always a superior mystery-comedy-thriller … it is also, and perhaps more significantly, an astonishing specimen of a nearly extinct genre … a fast-moving, absurdist piece of neo-realistic suspense; it is a tribute to his talent.
–– Los Angeles Times, January 25, 1988
This rollercoaster of a play may well turn out to be one of the most significant new plays at this year's Fringe … a gripping, individualistic piece.
–– The Stage (Edinburgh), August 15, 1996
… arguably the best new play at this year's festival.
–– The Stage (Edinburgh), September 5, 1996
Norman Lock's treatment of the evils of psychotic schizophrenia versus the even more ugly aspects of pretentious armchair liberalism is nothing short of hilarious in this outing.It's offbeat and loony with a sitcom flare.
–– Daily Variety, January 26, 1988
This play shows Lock is a promising writer with style and a voice of substance. …. It is certainly a trip from which everyone will get a kick.
––Dramalogue, January 28, 1988
We are kept on the edge of our seats as events move toward a climax beyond expectation … makes us laugh our way up a mountain of suspense.
–– The Scotsman, August 30, 1996
House of Correction moves from sitcom to Hitchcock, mingling the two so neatly that sometimes you don't know which you're watching.
–– Naked (Edinburgh), August 11, 1996
The play remains ingenious in identifying those essential American tenets and dragging them screaming and skewed to their conclusion.
–– The Guardian (Edinburgh), August 30, 1996
Lock's weapon is words and he uses them well … like a nightmare that wakes you up shaking, forcing you to reassess your life.
–– LA Life, January 24, 1988
Lock's genius is how he plays the edge for uneasy laughs.
–– Outlook (Los Angeles), June 1994
This is a delightfully dark, beautifully acted suspense comedy… a script that balances outrageous farce and human tragedy. … It is Lock's gift for concocting eccentric characters and devilishly comic situations that propels the play.
–– Downtown News (Los Angeles), February 8, 1988
The play echoes with maniacal laughter, even after you leave the theater.Although it isn't for everyone, this play is one of New Playwrights Theatre's most significant productions.
–– Medford Mail (Ashland, Oregon), April 10, 1987
The House of Correction is a brilliant play that breaks through contemporary theatrical barriers with its sheer power and directness … Lock is one of the most exciting new playwrights in modern theater.
–– Ashland Daily Tidings (Oregon), April 10, 1987
House of Correction manipulates absurdist humor into an unusual blend of verbal twists and turns.
–– New Center News (Detroit), July 3, 1989
Lock is working in a spare language that willing actors can explore like a cavern of fabulous, linguistic mystery.
–– The Tampa Tribune, July 2, 1990
The playwright's no-holds-barred attack on the moral right [in Favorite Sports of the Martyrs]… unfolds like the nightmare panorama in a mirrored funhouse
–– Rocky Mountain News(Denver), April 17, 1987
Order from the publisher or from Amazon.
---