The Port-Wine Stain: 
the third book of The American Novels series
Library Journal "Top Indie Spring Fiction" selection
Big Other "Most Anticipated Small Press Book" selection

ISBN 978-1942658061 | Bellevue Literary Press | Available June 14, 2016
In his third book of The American Novels series, Norman Lock recounts the story of a young Philadelphian, Edward Fenzil, who, in the winter of 1844, falls under the sway of two luminaries of the nineteenth-century grotesque imagination: Thomas Dent Mütter, a surgeon and collector of medical "curiosities," and Edgar Allan Poe. As Fenzil struggles against the powerful wills that would usurp his identity, including that of his own malevolent doppelgänger, he loses his mind and his story to another.
The Port-Wine Stain is a gothic psychological thriller whose themes are possession, identity, and storytelling that the master, Edgar Allan Poe, might have been proud to call his own.
PRAISE FOR 

The Port-Wine Stain
"Lock's novel engages not merely with [Edgar Allan Poe and Thomas Dent Mütter] but with decadent fin de siècle art and modernist literature that raised philosophical and moral questions about the metaphysical relations among art, science and human consciousness. The reader is just as spellbound by Lock's story as [his novel's narrator] is by Poe's. . . . Echoes of Wilde's The Picture of Dorian Gray and Freud's theory of the uncanny abound in this mesmerizingly twisted, richly layered homage to a pioneer of American Gothic fiction."
—New York Times Book Review
"An enthralling and believable picture of the descent into madness, told in chillingly beautiful prose that Poe might envy."
—Library Journal (starred review)
"Powerfully complex. . . .The Port-Wine Stain fits perfectly with the previous two [American Novels books]: The Boy in His Winter and American Meteor. By picking a moment in U.S. history and inhabiting it with the real-life characters that defined the age, Lock allows his readers to explore the development of national identity."
—Shelf Awareness for Readers
"As lyrical and alluring as Poe's own original work, The Port-Wine Stain captures the magic, mystery, and madness of the great American author while weaving an eerie and original tale in homage to him."
—Foreword Reviews
"This chilling and layered story of obsession succeeds both as a moody period piece and as an effective and memorable homage to the works of Edgar Allan Poe."
—Kirkus Reviews
"[A] worthy volume in Lock's American Novels series, and readers will find him to be an ideal guide for a trip into the past."
—Publisher's Weekly
"Engrossing."
—Historical Novels Review
"Solid . . . Effective."
—Booklist
"Shivery-good."
—Small Press Book Review
_____________________________

ISBN 978-1934137949 | Bellevue Literary Press | Available June 9, 2015

Publishers Weekly Starred Review and "Pick of the Week"
Library Journal "BookExpo America Book That Buzzed" selection
In American Meteor, an epical novel of America's Manifest Destiny, Stephen Moran recounts his boyhood as a Brooklyn oysterman and a Civil War bugler, elected by Walt Whitman, General Grant, and his own remarkable destiny to ride the Lincoln funeral train, playing taps en route to the dead president's entombment in Springfield. Caught up in the "westering" tide, Moran remains aboard the "parlor" car as a steward, after its purchase by the Union Pacific to carry executives to oversee construction of the transcontinental railroad. Apprenticed to William Henry Jackson, preeminent nineteenth-century photographer of the frontier, Moran documents the seizure of the "empty" territories beyond the Mississippi. As George Armstrong Custer's personal photographer, Moran accompanies him to the Black Hills during the discovery of gold, to the Philadelphia Centennial Exhibition, and, finally, to the Battle of the Little Bighorn. When he comes face-to-face with Crazy Horse, his life is spared by the great Lakota war chief and Moran glimpses, in prophetic dreams, the dark ecology of an inglorious American future: a grievous breach of what was promised us by the apparently boundless West.
By turns elegiac and comic, American Meteor is a novel of adventure, ideas, and mourning: a unique vision of our nation's fabulous and murderous history

PRAISE FOR AMERICAN METEOR
"[American Meteor] feels like a campfire story, an old-fashioned yarn full of rich historical detail about hard-earned lessons and learning to do right." —Publishers Weekly (starred review)
"[Walt Whitman] hovers over [American Meteor], just as Mark Twain's spirit pervaded The Boy in His Winter. . . . Like all Mr. Lock's books, this is an ambitious work, where ideas crowd together on the page like desperate men on a battlefield." —Wall Street Journal
"Memorably encompasses grand themes and notions of transcendence without ever losing sight of the grit and moral horrors present in the period." —Kirkus Reviews
"Rather like Thomas Berger's Little Big Man. . . . [Lock] writes beautifully, with many subtle, complex insights" —Booklist
"Successfully blends beautiful language reminiscent of 19th-century prose with cynicism and bald, ugly truth." —Library Journal
'Meteor' Is A Fiery Ride Through American History… [Norman Lock makes] a fable all his own which sheds brilliant light along the meteoric path of American westward expansion… [a] pithy, compact beautifully conducted version of the American Dream . —NPR
"American Meteor is, at its core, a spiritual treatise that forces its readers to examine their own role in history's unceasing march forward [and] casts new and lyrical light on our nation's violent past." —Shelf Awareness for Readers (starred review)

"Like the western sky, American Meteor stretches to the horizon in all directions. . . . A lovely panorama to behold." —New York Journal of Books
"American Meteor is at its heart a frontier yarn of adventure and discovery, insight and yearning [for] readers who savor the well-turned phrase and those who demand a little swash with their buckle." —Four Corners Free Press
"American Meteor is a fascinating, prophetic contribution to recent historical fiction, and Lock is plainly an author well worth our attention." —Monkeybicycle
"Lock creates a memorable character who sees it all while providing a shimmering eulogy for the loss of one America in order to create another." —Bluegrass, Books, and Brainstorms

 Also out from Bellevue Literary Press:

ISBN 978-1934137765 | Bellevue Literary Press | Available May 14, 2014
Reader's Digest: "Great Books from Small Presses
That Are Worth Your Time"
Library Journal: Discoveries Selection

Buzzfeed: "30 Books to Buy in 2014"
Huffington Post "Best New Book"
Publishers Weekly "Pick of the Week"
Spartanburg Herald-Journal Escape "Pick of the Week"
Hear Norman Lock's interview with NPR's Scott Simon here.
Purchase through the publisher or through Amazon.
Huck Finn and Jim float on their raft across a continuum of shifting seasons, feasting on a limitless supply of fish and stolen provisions, propelled by the currents of the mighty Mississippi from one adventure to the next. Launched into existence by Mark Twain in 1835, they have now been transported by Norman Lock through three vital, violent, and transformative centuries of American history. As time unfurls on the river's banks, they witness decisive battles of the Civil War, the betrayal of Reconstruction's promises to the freed slaves, the crushing of the Native American nations, and the electrification of a continent. While Jim enters real time when he disembarks the raft in the Jim Crow South, Huck finally comes of age when he's washed up on shore during Hurricane Katrina. An old man in 2077, Huck takes stock of his life and narrates his own story, revealing our nation's past, present, and future as Mark Twain could never have dreamed it.
The Boy in His Winter is a tour-de-force work of imagination, beauty, and courage that re-envisions a great American literary classic for our time.
PRAISE FOR THE BOY IN HIS WINTER
"Make[s] Huck and Jim so real you expect to get messages from them on your iPhone."
—SCOTT SIMON, NPR Weekend Edition
"In this surreal and otherworldly river journey through time, Norman Lock transports Huck Finn down the Mississippi and deep into America's history—and future. Elegant and imaginative, The Boy in His Winter is a tale that's as hypnotic as it is profound."
—GILBERT KING, Pulitzer Prize-winning author of Devil in the Grove: Thurgood Marshall, the Groveland Boys, and the Dawn of a New America
"I read Norman Lock's The Boy in His Winter with delight and amazement. Styled in the vernacular of a rapidly changing America, it stays true to the themes of Mark Twain's original: class relations, race and slavery, childhood innocence, moral hypocrisy—and, of course, the stark beauty and unforgiving nature of America's greatest river. I finished this absolutely elegant narrative feeling that Huck Finn has never been more alive."
—DAVID OSHINSKY, Pulitzer Prize-winning author of Polio: An American Story and Worse Than Slavery: Parchman Farm and the Ordeal of Jim Crow Justice
"Nothing less than the story of America itself . . . The Boy in His Winter is extraordinary. Lock writes some of the most deceptively beautiful sentences in contemporary fiction. Beneath their clarity are layers of cultural and literary references, profound questions about loyalty, race, the possibility of social progress, and the nature of truth and story. They merge with an iconic American character, tall tales intact, to create something entirely new—an American fable of ideas."
—Shelf Awareness  
"[Lock] is one of the most interesting writers out there. This time, he re-imagines Huck Finn's journeys, transporting the iconic character deep into America's past—and future."
—Reader's Digest
"Brilliant . . . this novel shimmers with glorious language, fluid rhythms, and complex insights. . . . The Boy in His Winter is a glorious meditation on justice, truth, loyalty, story, and the alchemical effects of love, a reminder of our capacity to be changed by the continuously evolving world 'when it strikes fire against the mind's flint,' and by profoundly moving novels like this."
—NPR Books
"Lock plays profound tricks, with language—his is crystalline and underline-worthy—and with time, the perfect metaphor for which is the mighty Mississippi itself."
—Publishers Weekly (starred and boxed review)
"The latest from distinguished elder statesman Lock . . . is an eclectic hybrid of literary appropriation, Zelig-like historical narrative, time-travel tale and old-style picaresque."
—Kirkus Reviews
"A sobering read and a wake-up call . . . which firmly places Lock as one of the most talented authors working today."
—Upcoming4Me 
"The voice of Huck Finn is so vivid and felt in this novel one loses the sense there's an author behind it. . . . [The Boy in His Winter] is a testament to friendship, sharing, a slow life derailed and a look at America from a truly unique perspective. Huck is unforgettable and this book then even more so."
—Sheryl Cotleur, Copperfield's Books (Northern California's Sonoma County)
"To call [The Boy in His Winter] a work of fiction is to tell only part of the story. This book is as much a treatise on memory and time and the nature of storytelling and our collective national conscience . . . much of it wildly funny and extremely intelligent."
—Minneapolis Star Tribune
"Lock's work mines the stuff of dreams . .  . [In The Boy in His Winter] Huck Finn and Jim set forth down the Mississippi River and journey through a century and a half of American history, to alternatingly thrilling and horrific effect."
—Rumpus
"A true American novel—in many ways as moving as Mark Twain's original."
—CounterPunch
"Boldly reimagines Huck Finn. . . . Striking and original. . . . The premise may be an outlandish brain-twister that takes risks with a sacred American myth, but the vessel stays afloat by virtue of [Lock's] wily ingenuity."
—Atlanta Journal-Constitution
"A wonderful meditation on the struggle to dovetail one's present self with the one's past."
—Friends of Atticus
Read "The Drowning of Huckleberry Finn," an excerpt from the novel at Construction magazine.
Hear Norman Lock's interview with NPR's Scott Simon.
Purchase through the publisher or through Amazon.
_____________________________
In a "narrow measure" muscular as Skelton's but with the wit, precision, and grace of bonsai, Norman Lock delivers the story of Nicolaas Jansen, "soldier/deserter, poet," insurgent subject and celebrant of Rat. Not since Ted Hughes' Crow have we encountered a figure with this much disturbing gravity and charisma; of the two, Rat is the more versatile and cunning: by turns our confessor, brother, source and devourer, God's mimic and shadow, double to soldier and state, patron and incarnation of the impulse to war, that force relentlessly "turning/ what is human into/ meat." In the Time of Rat is an engrossing, darkly compulsive read, and once finished we wonder, as Jansen does, "Was it/ ecstasy or terror?/ Rat only knows." –– John Hennessy, author of Bridge and Tunnel
_____________________________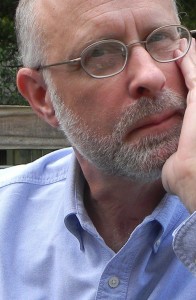 NORMAN LOCK has written novels, short fiction, and poetry as well as stage plays, dramas for German radio, a film for The American Film Institute, and scenarios for video-art installations. His plays have been produced in the U.S., Germany, at the Edinburgh Theatre Festival, and in Turkey. His work has been translated into Dutch, German, Spanish, Turkish, Polish, Greek, and Japanese.
He received the Aga Kahn Prize, given by The Paris Review, the Literary Fiction Prize, given by The Dactyl Foundation of the Arts & Humanities, fellowships from the New Jersey Council on the Arts, the Pennsylvania Council on the Arts, and from the National Endowment for the Arts.
Lock can be contacted by email at normanglock [at] gmail [dot] com and by regular mail at 33 Aberdeen Road, Apt. 355A, Tree Haven III, Aberdeen, NJ 07747-1153.
---