ISBN 978-1934137765 | Bellevue Literary Press | Available May 14, 2014
Huck Finn and Jim float on their raft across a continuum of shifting seasons, feasting on a limitless supply of fish and stolen provisions, propelled by the currents of the mighty Mississippi from one adventure to the next. Launched into existence by Mark Twain in 1835, they have now been transported by Norman Lock through three vital, violent, and transformative centuries of American history. As time unfurls on the river's banks, they witness decisive battles of the Civil War, the betrayal of Reconstruction's promises to the freed slaves, the crushing of the Native American nations, and the electrification of a continent. While Jim enters real time when he disembarks the raft in the Jim Crow South, Huck finally comes of age when he's washed up on shore during Hurricane Katrina. An old man in 2077, Huck takes stock of his life and narrates his own story, revealing our nation's past, present, and future as Mark Twain could never have dreamed it.
The Boy in His Winter is a tour-de-force work of imagination, beauty, and courage that re-envisions a great American literary classic for our time.
"In this surreal and otherworldly river journey through time, Norman Lock transports Huck Finn down the Mississippi and deep into America's history—and future. Elegant and imaginative, The Boy in His Winter is a tale that's as hypnotic as it is profound." —GILBERT KING, Pulitzer Prize-winning author of Devil in the Grove: Thurgood Marshall, the Groveland Boys, and the Dawn of a New America
"I read Norman Lock's The Boy in His Winter with delight and amazement. Styled in the vernacular of a rapidly changing America, it stays true to the themes of Mark Twain's original: class relations, race and slavery, childhood innocence, moral hypocrisy—and, of course, the stark beauty and unforgiving nature of America's greatest river. I finished this absolutely elegant narrative feeling that Huck Finn has never been more alive." —DAVID OSHINSKY, Pulitzer Prize-winning author of Polio: An American Story and Worse Than Slavery: Parchman Farm and the Ordeal of Jim Crow Justice
Read "The Drowning of Huckleberry Finn," an excerpt from the novel at Construction magazine.
Purchase through the publisher or through Amazon.
_____________________________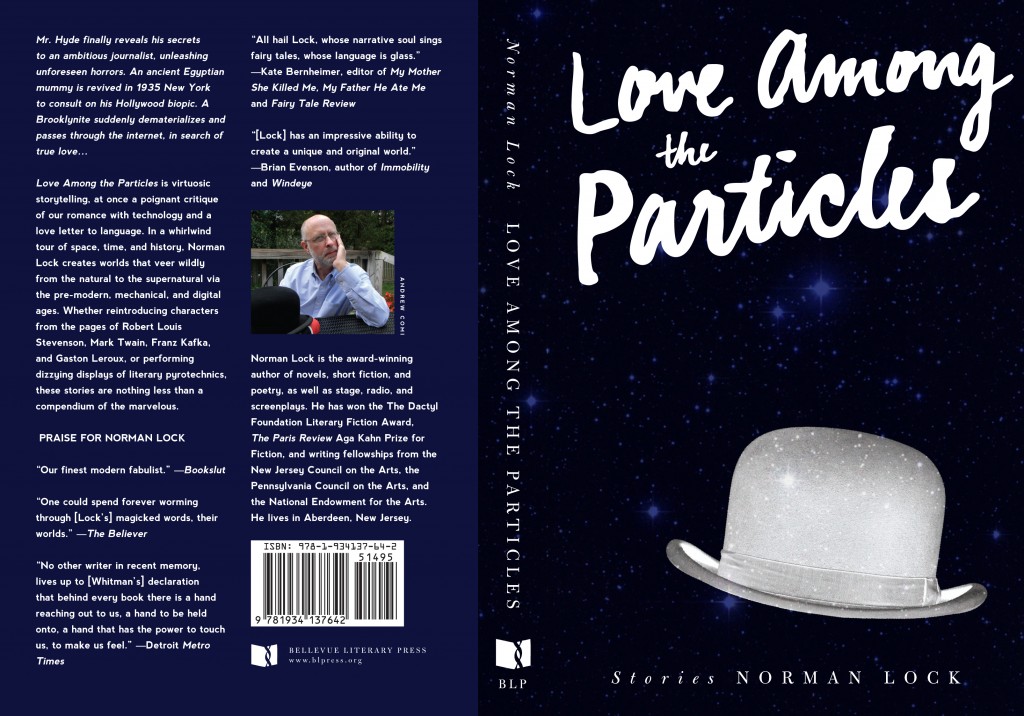 ISBN 9781934137642 | Bellevue Literary Press
Love Among the Particles is virtuosic story telling, at once a poignant critique of our romance with technology and a love letter to language. In a whirlwind tour of space, time, and literary history, Lock creates worlds that veer wildly from the natural to the supernatural via the pre-modern, mechanical and digital ages. His characters may walk out of the pages of Robert Louis Stevenson, Mark Twain, Franz Kafka, or Gaston Leroux, but they are distinctly his own. Mr. Hyde finally reveals his secrets to an ambitious journalist, unleashing unforeseen horrors. An ancient Egyptian mummy is revived in 1935 New York to consult on his Hollywood biopic. A Brooklynite suddenly dematerializes and passes through the internet, in search of true love….
"Through the years, I've found entertainment and intellectual engagement within books' pages, but once in a harvest moon I find in them what I have been looking for all along: a story that reminds me of truths I did not realize I have forgotten. When I picked up Norman Lock's collection of stories, Love Among the Particles, I knew I was about to step once more onto a street paved by the deep longings of the soul…Lock effortlessly blurs the edges of where fiction ends and reality begins…Norman Lock has created a masterpiece containing everything I could want from a great read."
       Deanna Hoffmann
"They are gems, rich in imagination and language. Readers will happily suspend disbelief, perhaps even finding particles of humor with the Museum of Steam's bottled steam that "rose, unbidden…with indecent intent with regard to a woman's knickers." And beyond the entertainment lie 21st-century conundrums: What really exists? Are we each, ultimately, alone and lonely? Where is technology taking humankind?… For all their convolutions of space and time, these stories are remarkably easy to follow and savor."
       A *starred* Kirkus Review and a "Best Books Out This Week" 
"[T]hese humorous, imaginative meditations on the nature of dreams, time, and space shimmer in their own darkness… reminiscent of the plays of Samuel Beckett, there is a wealth of insight here."
       Publisher's Weekly
"Norman Lock once again proves himself a master storyteller in his new collection, Love Among the Particles. These stories are brilliantly imaginative and wonderfully unsettling."
       Largehearted Boy, May 15, 2013 | Review by David Gutowski & "Book Notes" playlist
"Norman Lock is one of the best writers you've never heard of, but that could change with Love Among the Particles, a collection of stories that combines absurdist elements and avant-garde fiction with conventional storytelling to satirize our romance with devices and our penchant for confusing technology with living…Philip Roth invited a young Lock to his writing seminar and helped launch a career that has included recognition from George Plimpton at the Paris Review and the publication of four novels and hundreds of short stories and plays. Love Among the Particles is topical, astonishing and provocative–and should help Lock reach his widest audience yet."
       http://www.shelf-awareness.com
"These stories, many inspired by literary classics, are so thoroughly imagined they are less homages than reinventions. Watching Lock effortlessly leap between genres and styles, a reader can only shake her head. There is nothing this author can't do on the page."
        Necessary Fiction
"Lock is not engaged in either homage or pastiche but in an intense dialogue with a number of past writers about the process of writing, and the nature of fiction itself …. Lock constantly interrogates the business of writing fiction, confusing the role of writer and participant. When Roland Barthes spoke of the death of the author it was only to propose that everyone was in part author of the story she was reading, endlessly reformulating it, and this is something that Lock almost insists on, so open is he about pointing out the fictionality of everything we look at."
       Weird Fiction Review (UK)
"The stories in this collection feel quite deliberately selected to provoke the reader into an acknowledgement — and hopefully, a studied consideration — of the ineluctable strangeness of existence, in all its historical and fictional glory. I can't think of another author who takes such evident, vocal delight in bending the laws of physics and geography (to say nothing of his flouting of various narratological and fictional norms)…. Stories make their own realities, just as histories do, and Lock's uniquely intricate understanding of this dynamic is what makes these tales so inimitable.
     Nathan Weatherford (Full Stop)
"Lock is a rapturous storyteller, and his tales are never less than engrossing. Indeed, they are so engrossing that Lock's presence as a character sometimes seems an accident, as though he has been drawn into his own stories by some sort of irresistible narrative attraction."
     Gabriel Blackwell in The Kenyon Review
. . .
Read An Interview with Norman Lock, by Celia Johnson: "Lock creates stories that, at first glance, seem impossible, and yet by the end of each one, feel utterly familiar… 'Try as I have, I cannot seem to write other than I do: fables of identity, parables of self-consciousness, and tales of the marvelous.' That magnetic pull transcends the pages of his book, making for a fully addictive collection." READ THE FULL INTERVIEW at Slice Magazine
The Story Behind Love Among the Paricles: "[L]et's say (acknowledging that my response may be correct only insofar as I believe it to be) that I wanted to write at length, in reaction to the brief texts of Grim Tales and Pieces for Small Orchestra & Other Fictions, which I was writing at the same time as the new book of stories – together with the novel Shadowplay, the stage play The Book of Stains, and a number of radio dramas. (A ten-year period of uncertainty and growing anxiety.) I am often a self-referential writer, whose work not only regards my present state of awareness and literary practice (as well as those of my exemplars), but questions my motives for writing." READ the full story here.
A Brief (and Incomplete) Guide to Norman Lock's Fiction at by Tobias Carroll at vol.1 Brooklyn.
READ AN EXCERPT at The Collagist
Purchase through the publisher or through Amazon.
_____________________________
In a "narrow measure" muscular as Skelton's but with the wit, precision, and grace of bonsai, Norman Lock delivers the story of Nicolaas Jansen, "soldier/deserter, poet," insurgent subject and celebrant of Rat. Not since Ted Hughes' Crow have we encountered a figure with this much disturbing gravity and charisma; of the two, Rat is the more versatile and cunning: by turns our confessor, brother, source and devourer, God's mimic and shadow, double to soldier and state, patron and incarnation of the impulse to war, that force relentlessly "turning/ what is human into/ meat." In the Time of Rat is an engrossing, darkly compulsive read, and once finished we wonder, as Jansen does, "Was it/ ecstasy or terror?/ Rat only knows." –– John Hennessy, author of Bridge and Tunnel
_____________________________
Each month, Lock contributes scenarios for art and video installations
to the English-language Austrian magazine, Visual Artbeat, read by museum curators,
gallery owners, and artists in Europe, the Middle East, and North America.
_____________________________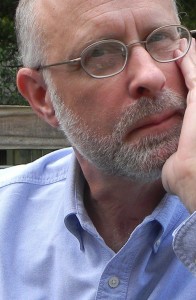 NORMAN LOCK has written novels, short fiction, and poetry as well as stage plays, dramas for German radio, a film for The American Film Institute, and scenarios for video-art installations. His plays have been produced in the U.S., Germany, at the Edinburgh Theatre Festival, and in Turkey. His work has been translated into Dutch, German, Spanish, Turkish, and Japanese.
He received the Aga Kahn Prize, given by The Paris Review, the Literary Fiction Prize, given by The Dactyl Foundation of the Arts & Humanities, fellowships from the New Jersey Council on the Arts, the Pennsylvania Council on the Arts, and from the National Endowment for the Arts.
Lock can be contacted by email at normanglock [at] gmail [dot] com and by regular mail at 33 Aberdeen Road, Apt. 355A, Tree Haven III, Aberdeen, NJ 07747-1153.
---